Series 4 -- Starting code
Once again, we'll not begin from scratch, as we already seen the very basics on terrain creation in the first series. We'll start with the code presented below, which is tightly based on the code of the first series.

Because we would otherwise get a too lengthy LoadContent method, this method now calls a LoadVertices method where we will initialize all our vertices and indices.

For now, this LoadVertices method generates the vertices and indices for a terrain. These vertices contain both positional and color information. Next, we pass them to the CalculateNormals method, which generates the correct normals and adds them to the vertices. Finally, both vertices and indices are stored in a VertexBuffer and IndexBuffer for optimal speed.

In the Draw method, they are passed to the Colored technique, which is defined in the Series4Effects.fx file which is displayed below. This file will contain our HLSL code, so we're going to extend it throughout the following chapters. You can also download the file here.

We'll also be using a slightly bigger heightmap, which you can download here.

So create a new project and paste the code below into the Game1.cs file. Make sure the namespace in both the Game1.cs and Program.cs files are the same! Then create a file named Series4Effects.fx, and paste the HLSL code found below into it. We're ready to go!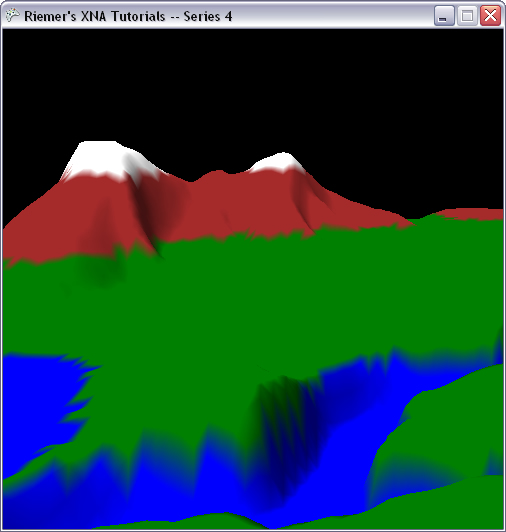 Click here to go to the forum on this chapter!

Or click on one of the topics on this chapter to go there:


- Website design & XNA + DirectX code : Riemer Grootjans -
©2003 - 2011 Riemer Grootjans