Playing sound effects in XNA
At this moment, we have a fully playable game, thanks to all the functionality we've added throughout this series of 2D XNA Tutorials. The overall feeling of a game is always MUCH improved once sound effects are added to it, which is what we're about to do in this chapter.

We're going to add three simple sound effects: one for the rocket launch, one for a terrain explosion and another one for a cannon explosion. You can download them by clicking on their names in the previous phrase (links don't work yet, for now use 3 sounds of your choice).

Loading and playing sound effects used to be quite cumbersome in previous XNA versions, and has been much simplified since XNA 4.0, where you can load it much like you would load and use textures.

Therefore, load the 3 files into your Content project as you would do for images. Next, define these 3 variables at the top of you code:

SoundEffect hitCannon;
SoundEffect hitTerrain;
SoundEffect launch;

And load them in your LoadContent method:

hitCannon = Content.Load("hitcannon");
hitTerrain = Content.Load("hitterrain");
launch = Content.Load("launch");

Now, all you need to do, is call the hitCannon.Play() to play the sound!

The first effect should be started whenever the rocket is launched, which is detected in our ProcessKeyboard method. Add this line to the end of that method, inside the if-block that detects whether the rocket should be launched:

launch.Play();

The other two effects should be started whenever a detection between the rocket and the terrain or a cannon is detected. So go to our CheckCollisions method, and add this line to the if-block that checks for cannon collisions:

hitCannon.Play();

And this line to the if-block that detects terrain collisions:

hitTerrain.Play();

That's it! When you run the code, you should hear some sound effect each time you launch a rocket, and when the rocket hits something.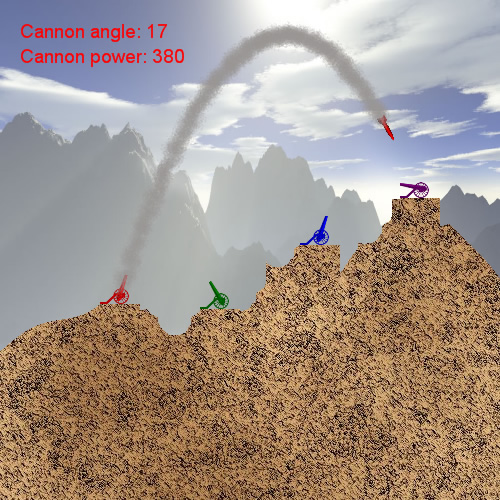 Click here to go to the forum on this chapter!

Or click on one of the topics on this chapter to go there:


- Website design & XNA + DirectX code : Riemer Grootjans -
©2003 - 2011 Riemer Grootjans