Adding camera delay - Lerp
Our flight simulator is almost finished. One of the most annoying things that remain is that your xwing responds instantaneous to your keyboard input. In fact, itís not this thatís annoying, itís that the camera responds instantaneous. This results in rather quirky camera behaviour.

Using the built-in functionality of XNA, this is extremely easy to resolve. What we are going to do, is make the camera a bit slower. To obtain this, we will separately keep track of the camera rotation. Now when the player presses some arrows, the xwing rotation will change immediately. Instead of immediately adjusting the camera rotation to these changes, we will make the camera rotation crawl slowly towards the xwing rotation. In other words, it will take a few frames before the camera rotation has become the same as the xwing rotation.

Start by adding a Quaternion variable to the top of your code, which weíll use to store the rotation of the camera:

Quaternion cameraRotation = Quaternion.Identity;

Next, adjust the code in our UpdateCamera method so it uses this rotation instead of the xwing rotation:

Vector3 campos = new Vector3(0, 0.1f, 0.6f);
campos = Vector3.Transform(campos, Matrix.CreateFromQuaternion(cameraRotation));
campos += xwingPosition;

Vector3 camup = new Vector3(0, 1, 0);
camup = Vector3.Transform(camup, Matrix.CreateFromQuaternion(cameraRotation));

Now we still need to make our camera rotation follow the rotation of the xwing. This is what we will do: each frame we will make the camera rotation get 10% closer to the xwing rotation. This sounds very difficult, but using XNA itís not: just put this line as first line in the UpdateCamera method:

cameraRotation = Quaternion.Lerp(cameraRotation, xwingRotation, 0.1f);

The Lerp function is one of the coolest functions in XNA. You can specify 2 Quaternions to the Lerp method, and specify you want to know what is 10% between the two of them. This is whatís done in the line above.

Even better, in XNA the Vector2, Vector3, Vector4, Matrix, Quaternion and maybe even some more objects have the Lerp function. So as an example you can better visualize: say you have two Vector2s: V1 = (10,50) and V2 = (20,100). If you use the line Vector2.Lerp(V1,V2,0.2f), this will give you 20% between V1 and V2, which is in this case (12,60). Youíll definitely going to use this function a LOT when you create a game.

Well thatís all there is to it, I wish it were more complicated but the Lerp function takes care of the difficult part for us. When you run this code, you will see your camera follows your xwing much smoother.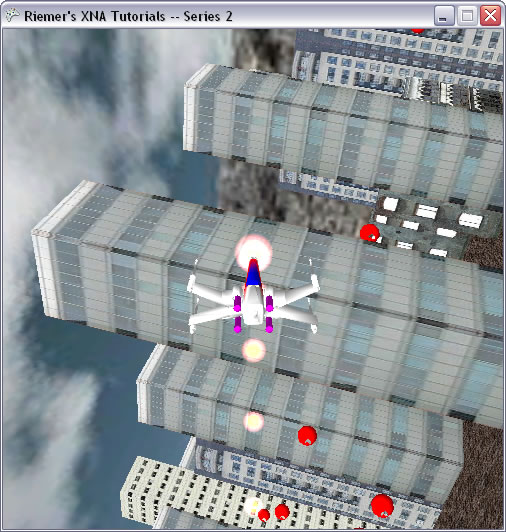 Click here to go to the forum on this chapter!

Or click on one of the topics on this chapter to go there: