Going fullscreen with DirectX
This chapter will simply enlarge our window to fullscreen mode. This is actually very easy, as you will see.

As you already know, DirectX uses a backbuffer, which is being filled between your calls to BeginScene and EndScene. When you call the Present command, this filled backbuffer throws its contents on the screen at once. This is why your screen isnít flickering using DirectX as it would when programming other languages, where you first clear the screen and then bit by bit fill it a again. The time between the clearing and the last drawing operation would be noticeable, so your screen will seem to flicker.

Up till now, we didnít have to be very specific about this back buffer; we simply enabled it. Using the windowed mode, your graphics card, (or your operating system, if your hardware doesnít support it) will do the conversion between color formats automatically.

In fullscreen mode, however, this is not the case. The contents of the backbuffer will be presented to the screen without modifications, so the width and the height of the buffer have to correspond to a resolution your screen can handle. Furthermore, the color definition used by your backbuffer also has to correspond to a mode your screen can handle.

So go to your device creation code, and replace the line where you indicate DirectX to use the windowed mode by this:

presentParams.BackBufferWidth = 800;
presentParams.BackBufferHeight = 600;
presentParams.BackBufferFormat = Format.R5G6B5;
presentParams.Windowed = false;

We set the resolution of our backbuffer, as well to the color format, to a widely accepted format. Then we indicate we want to go full screen.

Thatís all there is to it! When you run the program, youíll notice however that your images seems to be stretched horizontally. This is because 800/600 no longer results to 1, as was the case with 500/500. So go find the code where you define the size of you window (in the InitializeComponent method), and change it to this one:

this.Size = new System.Drawing.Size(800, 600);

When you run this code, youíll notice your targets have become spheres again.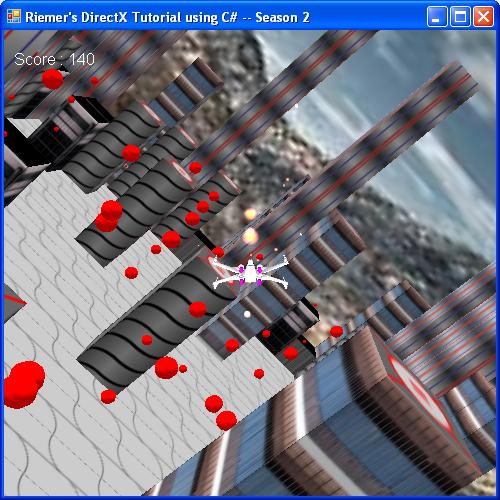 Click here to go to the forum on this chapter!

Or click on one of the topics on this chapter to go there:


- Website design & XNA + DirectX code : Riemer Grootjans -
©2003 - 2011 Riemer Grootjans